Q&A with Chrissie Spencer, Head of Group Marketing for The DDC Group
This week we interviewed Chrissie Spencer, head of group marketing for The DDC Group
Can you give a brief introduction to DDC as a business?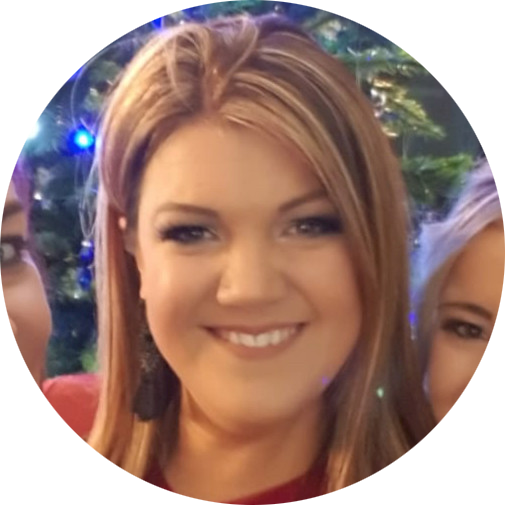 Chrissie: DDC OS UK is a leading business process outsourcing business. Some of our clients include GB Energy Supply, South East Water, Robin Hood Energy, the Charity Commission, Lewisham Council and Christian Aid.
We believe our approach is what makes us different; we spend time getting to know a business to create a truly unique proposition that we know will stand the test of time.
How did DDC choose 8x8?
Chrissie : Before moving to 8x8 X Series, we did not have a central communications system. We had several disparate comms channels that were not linked together meaning we were offering a disjointed service. On top of this, competition was on the rise and we needed to be able to offer the highest level of service for our customers.
We needed a communications system that linked all areas of the business together to support our ambitious growth plans and deliver superior customer experience. 8x8's ground-breaking unified communications and contact centre platform X series was the perfect fit.
Also as a company, 8x8 is very agile, flexible, and enthusiastic to work with. Choosing 8x8 was a no brainer!
What challenges did 8x8's X Series technology help you overcome?
Chrissie: Having a robust communications capability is vital to DDC OS. 8x8's solution enables us to bring everything together into a single dashboard, connecting the dots between all the disparate pieces of information that we have in constant motion.
8x8 also gives us the ability to ramp up teams, frequently containing dozens of full-time employees, to full productivity in as little as two weeks including hiring and training. The agility of our 8x8 deployment provides us with yet another differentiator over our competition.
What has been the impact of 8x8 X Series on your business?
Chrissie: The advanced analytics provided by 8x8 X Series have enabled us to highlight which point in the Interactive Voice Response (IVR) menu customers would abandon the call. Using this insight, we spent six months making small tweaks to the responses and navigations for customers to improve responses.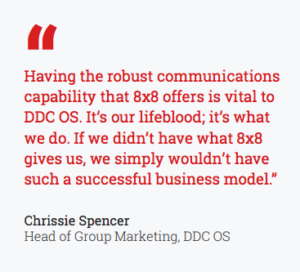 As a result of 8x8's we introduced a new feature "Queue Buster" . Queue Buster allows customers to request a call back instead of waiting in a queue and has reduced the call abandonment rate from 7% to under 3%. Customer satisfaction scores have increased to 86% and call volumes have dropped by 8%.
With 8x8 X Series in place, we are now able to gather full insight into the customer journey – for example, why customers are calling and in turn how we can reduce call volumes. We have also been able to track and measure the adherence to call schedules, which has increased from 80% to 96%. Service costs have also been reduced by around 35% – a massive transformation for the company.
As a result of these amazing results, 8x8 and DDC OS have been shortlisted for the best application of technology awards at the Institute of Customer Service Customer Satisfaction Awards on 5th March 2019.