Are you balancing work, life and holidays from home?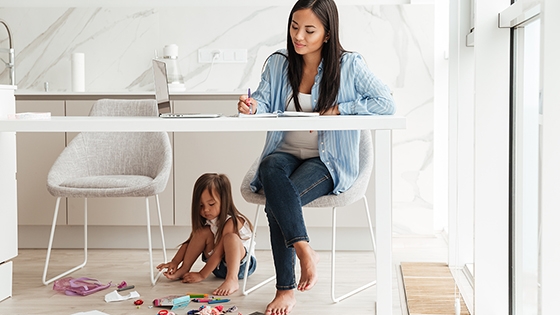 It's been just over a fortnight since UK schools closed amid the COVID-19 outbreak. Since then, parents across the country have been attempting home-schooling while balancing work remotely, with varying degrees of success.
Add to the mix, Easter holidays! - with some parents pausing home-schooling to give kids their well-deserved break. However, with many workers not taking the full two weeks as annual leave, the challenge to continue remote working, while keeping the kids entertained, gets that much harder now.
Here are my top five tips to keep your working schedule on track over the holidays with kids at home:

1. Designate an area for working.
It's hard to completely isolate yourself from your kids during the holidays, especially if no one else is around to help, but the kitchen table doesn't serve as the optimal workspace, either.
Find a well-lit and relatively quiet area in your home that will enable you to be productive and minimise interruptions.
The alternative is adjusting your workspace to accommodate the little ones so they can entertain themselves, at intervals, in the same room as you. You may want to kit-out the area with games, crayons, paper and books.

2. Holidays call for more planning ahead than usual!
When remote working, it's usually good practice to add a few hours to each project you're working on and avoid starting on them too close to their deadlines.
With the holidays in full swing, try to take control of your work schedule by establishing your internal deadlines and factor in unplanned time needed with your little ones.

3. Change your work patterns - work when they're not around.
Working from home offers more flexibility allows you to create a schedule that suits your needs. With that in mind, take advantage of the times in the day when your little ones aren't around. That may mean setting the alarm to wake up early to work, before the kids are up for the day or working later in the evening when they're asleep.

4. Be creative … with the kids and your diary.
If you have another adult at home with you, consider splitting your schedules.
Set up time every night to review the following day's work meetings and deadlines you both have. That will make it easier to create a schedule for managing the kids the next day. It may involve working round key meetings in the diary or the need to move them if needed.
Also ensure the working parent is "hidden away" when working to minimise distractions from the kids and reducing unnecessary trips to the kitchen or garden!

5. Plan kids' activities in advance and share your schedule with them.
There are plenty of ideas of how you can keep your kids entertained during the holidays, from creating Easter egg hunts, getting mucky with arts and crafts through to building a home den.
You could also set up virtual playdates, giving your kids the opportunity to meet their friends. They can do this safely (under your supervision) online with free online video conferencing software.
The key is to plan the night before, so you're not caught off-guard with the dreaded "I'm bored!" or "I'm booooooooo-oooooord!" if your kids are more dramatic. And don't forget to build in lots of variety and share the schedule with them at the start of the day; it offers them a 'soft structure / routine', which most kids (and adults) respond to well!