Accelerating the digital shift in public sector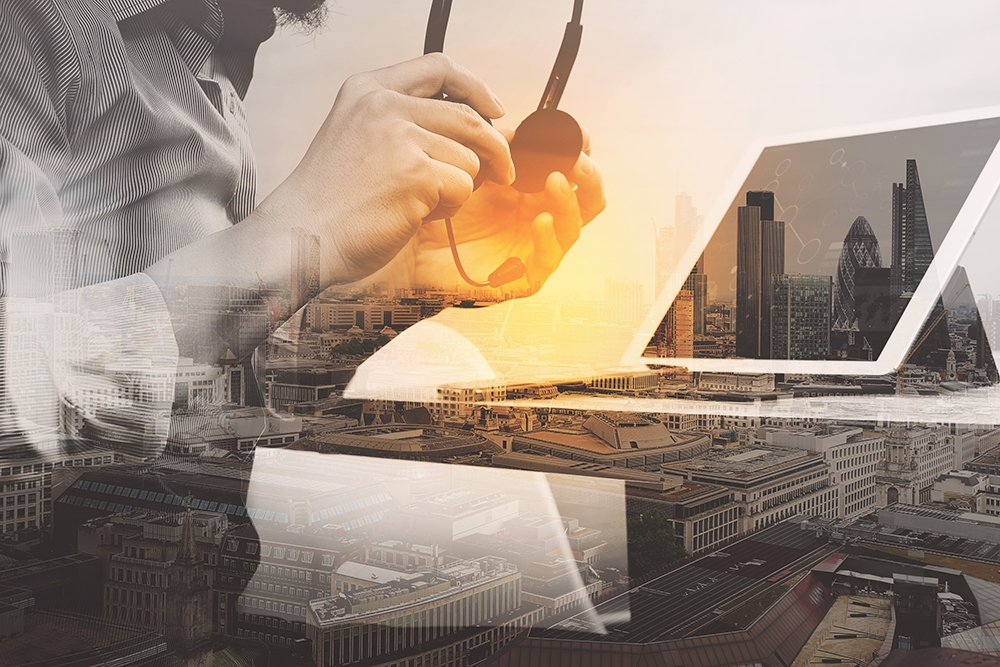 Innovation and the "entrepreneurial state" 
When people talk about technology adoption and innovation in the public sector, it's common to hear sarcastic comments, followed by various adjectives for "ineffective", "wasteful" or "unproductive". However, I came across a thought-provoking book titled "The Entrepreneurial State" by Professor Mariana Mazzucato, who claims most private organisations lack long-term vision and adequate risk appetite of the public sector. Instead, she discusses the role of the state, in fostering long-run innovation-led economic growth and points out that the private sector only finds the courage to invest after, an entrepreneurial state has made the high-risk investments. "Not only has government funded the riskiest research, whether applied or basic, but it has indeed often been the source of the most radical, path-breaking types of innovation. To this extent, it has actively created markets, not just fixed them." 1
By embracing cloud communications and investing in innovation, local government organisations are aiming to become more responsive to citizen needs. In a recent 8x8 webinar, Nigel Ashton from Aylesbury Value District Council showcased what is now achievable for local government in the age of cloud technology and artificial intelligence. It is a commercial journey that is complex, it needs vision and clarity or purpose, with well co-ordinated execution and an agile approach, at the same time, cloud is the way forward for councils—it's distributed, secure and in tune with the desires and needs of residents.
"Technology bulls" in local government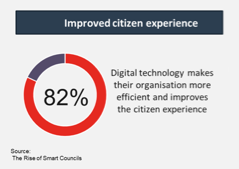 Now, while public sector organisations are under significant economic pressure, they are improving efficiencies of processes and policies, and are embracing new technologies. In fact, the public sector is catching up fast to private sector technology innovations and blazing ahead on some cases. In a recent survey, we surveyed over a thousand UK local government staff to understand their views about technology, data, and how cloud solutions can benefit public service delivery. We found 82% of local government staff were surprising bullish about digital technology in local councils, and believed it made their organisations more efficient and helped deliver improved "citizen experiences."
That's important because same way online retailers provide us as consumers with the best experience possible, hoping to engage and turn us into loyal customers, similarly, public sector organisations are now using citizen or customer experience metrics to provide better outcomes, increase employee engagement, improve revenue collections, and build overall public trust. Crucially, we're seeing real positive sentiment and greater confidence amongst public sector staff (78%), that new digital technology can support improved public service delivery.
Accepting transformational change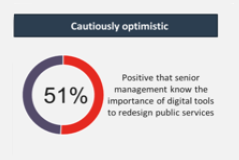 Digital transformation is well underway across public sector organisations and requires redesigning or retooling on every level. It starts with the workforce and includes every aspect of the organisation - customer services, processes, governance and technology, where the end goal is to make public services faster, and more adaptable to citizen demands. It also extends the ability to share more information securely between councils, and their service delivery partners. But for this to happen, leadership within local government need to hold positive views about how technology is accepted by staff and used to deliver effective public services.

Our survey also revealed two thirds (67%) of staff within those local government organisations confidently used digital or cloud technology in their daily work and were doing so securely. Just over half (51%) were cautiously optimistic that senior leadership appreciated the importance of digital and cloud-based tools, and how those technologies could help enhance public service delivery.
The growing acceptance of technology in public sector is encouraging, but technology adoption starts with the communications and moving those mission-critical systems into the cloud. An on-premises PBX system may have served an organisation well, however big advances in cloud communications technologies have brought significant benefits with multiple communications channels. Organisations with traditional PBX systems risk system outages resulting in reputational damaged, impacted service delivery and high upgrade that require a great deal of manual intervention, time and resources.
Equip staff with the right tools
Cloud-based communications help organisations overcome these issues and support staff with the right tools which in turn help improve service delivery, resulting in better citizen experiences and outcomes. It's not just technology that transform workplaces; people too, and employees need a greater sense of purpose and a more engaging work environment. We see more public sector organisations enabling people to choose how and where they work. Our survey revealed that Instant Messaging, Video Conferencing, Cloud Computing, Call Analytics and Cloud Telephony made up the top 5 digital technologies in public sector:
59% of public sector organisations use Instant messaging, to provides real-time, cost-effective communications securely with citizens, to increase responsiveness to queries.
53% use video conferencing, to promote desk compression through flexible working schemes, and that drives greater workforce efficiency. It means people don't spend time travelling, and it supports a green agenda with reduced carbon emissions.
38% use cloud computing, to enable faster access to innovation by quickly spinning up virtual machines to test ideas and rollout new citizen services rapidly.
23% use call analytics, to support decision making and responsiveness of frontline staff based by measuring on-call activity, real-time call queues, and call quality
17% use cloud telephony, which eliminates the need for expensive on-site PBX equipment and costly maintenance contracts. Figures are set to rise with ISDN lines being turned off in 2025.


To learn how you can accelerate the shift to digital and better serve your constituents through cloud communications, contact our dedicated public sector team at uk-publicsector@8x8.com or call 0333 043 8888. 

1  https://www.oecd.org/countries/unitedarabemirates/global-platform-on-governance-of-future-uae-2018.htm