8x8 + Wavecell: The New Era of Personalised Customer Experiences is Here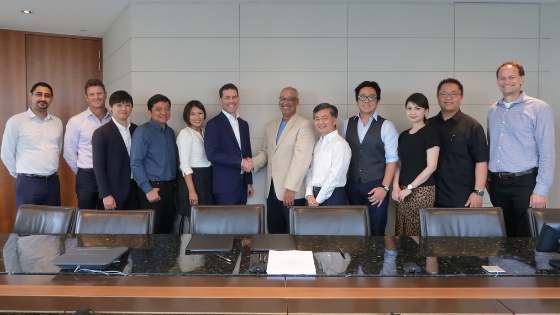 The Digital Economy killed "one-size-fits-all." From the way we collaborate to the products we purchase, businesses succeed on their ability to deliver precisely tailored experiences and offerings. Whether you're B2B or B2C, we live in a "me" culture to the extreme. This presents an incredible opportunity, however, for businesses to stand out in previously inconceivable ways.
What if you could take a single slice of a product suite and offer it completely customised to fit the exact need of a customer? It's this natural evolution of true customer-centricity that 8x8 is embracing with our latest acquisition of Singapore-based Wavecell. Through this acquisition, 8x8 can take our trove of best-in-class capabilities – from advanced analytics to crystal clear video – and deliver them in the form of APIs to be embedded and integrated into bite-sized pieces.
Wavecell's leadership is one I've long admired, embodying the high standard of excellence I've come to associate with Singapore's business community through my decades-long career growing companies in the country. I encourage you to resist the temptation to run the numbers on my age here, but when I bought back my first company, Savi Technology, from TI/Raytheon in May of 1999, our second-biggest investor that helped lead the buyout was Singapore's sovereign wealth fund Temasek Holdings. We would later purchase Ace Fusion (another Singapore-based organisation) in April 2001. Partnering closely with the Singapore Economic Development Board (EDB) and Port of Singapore Authority (PSA), we leveraged Savi's RFID technology to transform Singapore into the centre of smart and secure trade lanes in a post-9/11 world. This was the very first application of the "internet of things" - in fact, the term was invented by MIT to describe what we were doing, which was to track cargo containers and their contents globally using the internet. Through the acquisition of Ace Fusion, my partnership with Temasek as well as other Singapore listed companies such as Keppel and SembCorp, I saw first-hand Singapore's commitment to innovation, and I couldn't be more thrilled to welcome our new team that clearly shares that passion.
For 8x8 customers, Wavecell's approach to API integrations means a complete omnichannel experience in the future, particularly through the 8x8 Contact Centre. The core necessities of exceptional and secure customer experiences – SMS, messaging, voice, emails, video – can be built and personalised into business applications. This will juxtapose beautifully with our recent acquisition of Jitsi from Atlassian and will provide unique capabilities where video and the camera on mobile phones will become core to contact centre agents' interactions with their customers.
As a business on the cutting edge of hyper-personalisation, bringing Wavecell into the 8x8 family marks our continued promise that the future is the experience. We are providing our customers with a full toolbox of communications capabilities to build highly personalised interactions with their end customers, all tightly integrated into their apps, mobile apps and websites. From our products to our very business model, we're seamlessly blending the power of voice, video and contact centre for the experience-first business, and we're humbled to be named a partner of choice in bringing exceptionally powerful experiences to life for more than a million active users.
Have any questions? Find me on LinkedIn, @VikVerma8x8  on Twitter or check out the full press release.