Communications that work for you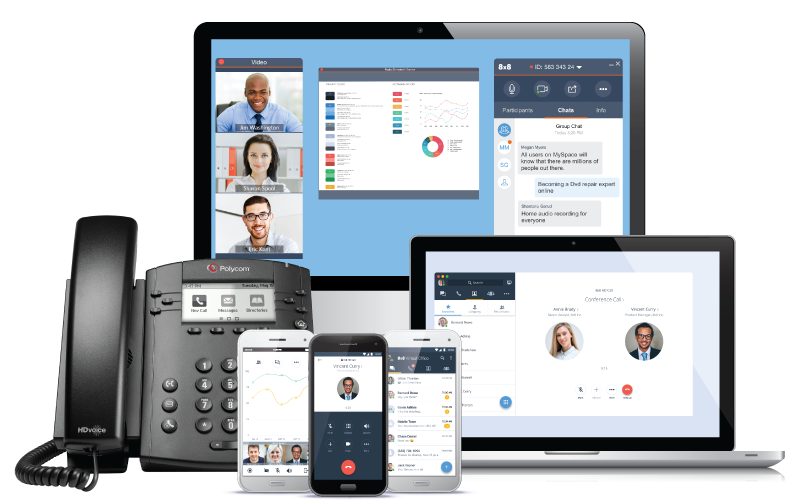 Improve customer experience and increase efficiency with one cloud solution for voice, video, chat and contact center. With one communications platform that's simple to manage and use, every business can gain the same advantages as large corporations.
Connect with customers quickly and easily
Take your business on the go with mobile apps
Be more productive on the devices you already use
Do it all at a cost you won't believe
---
X Series plans
Whether your company has one employee or one thousand, there's an X Series plan for you. Get increasingly powerful collaboration capabilities. Mix and match X2 plans and above.
8x8 Express
Unlimited calling in the U.S. Canada. Includes call handling, high-definition (HD) audio & video conferencing, business SMS & texting, one-on-one & group chat and mobile & desktop apps. Great for home-based businesses and small companies with one office.
Free 30-Day Trial
X Series X2
Unlimited calling within 14 countries. Includes all 8x8 Express features plus advanced auto attendant, call recording with 1GB storage, 8x8 Video Meetings, cross-platform messaging, unlimited internet faxing, CRM integrations and 8x8 service & implementation support. Great for companies with one or more offices.
X Series X4
Unlimited calling within 47 countries. Includes all previous X Series features plus Barge-Monitor-Whisper, operator switchboard, analytics & call quality reporting and call recording with 10GB storage.
X Series X6
Unlimited calling within 47 countries and 4,000 minutes of contact center * Includes all previous
X Series features plus skills-based routing, interactive voice response (IVR), queued & web callback, contact center reporting & analytics and call recording with 10GB storage.
*For more details, see the ​X Series Plans & Pricing​ page.
---
See how much you save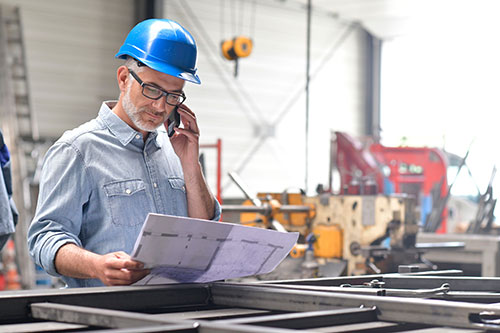 Cloud communications provides small and midsize businesses with the features and capabilities they need to engage customers and improve productivity at a fraction of the cost of on-premise systems.
See how much your organization could save by moving to 8x8 cloud communications.
If you are a single office, try 8x8 Express for free. There's no risk—if you're not satisfied, just cancel within 30 days.
---
Accelerate your business
Customers and employees expect fast and reliable communications. If your business isn't equipped to meet these demands, you risk falling behind.
8x8 helps companies move at the speed of business by providing one cloud communications solution that's simple to manage and use. There's no complicated setup or wasted IT time.
Every employee can provide personalized customer service and connect with anyone in the organization using advanced communications and collaboration capabilities. Accelerate your business with 8x8.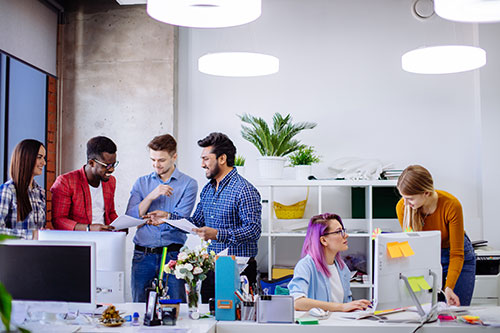 ---
One platform does it all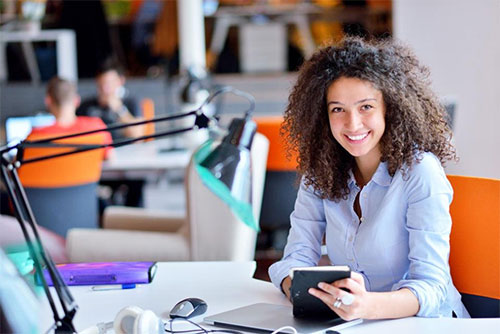 Support for mobile workers
8x8 Express and X Series includes 8x8 smartphone, tablet and desktop apps so team members can keep working whether they are in the office, at home or on the road. But to customers, it always seems like they are at their desks.
Easy to manage
Because 8x8 Express and X Series is built on one platform, it is quick to install and deploy. Adding new users and changing settings is fast and easy. You can view reports on any device and follow one monthly bill.
Ready to grow
Whether you are just starting out or have been in business for years, 8x8 meets your needs every step of the way. Add new lines, extensions and services at any time. No matter where business takes you, 8x8 is there.
---
Experience the difference
Build stronger customer relationships. Support greater collaboration. Make smarter business decisions. Get higher returns.
8x8 Team Messaging: Collaborate with internal teams, customers and external partners across messaging platforms
CRM & productivity application integrations: Strengthen customer relationships and increase efficiency
8x8 Video Meetings: Host HD audio & video conferences with up to 100 participants
8x8 Contact Center: Increase customer satisfaction and gain team performance insights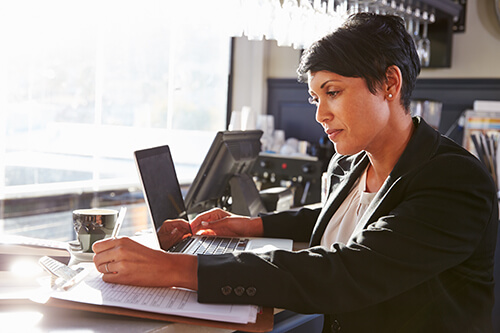 ---
Contact a Specialist
To learn more about how 8x8 cloud communications can improve customer experience, increase collaboration and reduce costs, contact an 8x8 Specialist at 1-877-291-9279 or fill out the form below.