Time for Manufacturers to Retool their Communications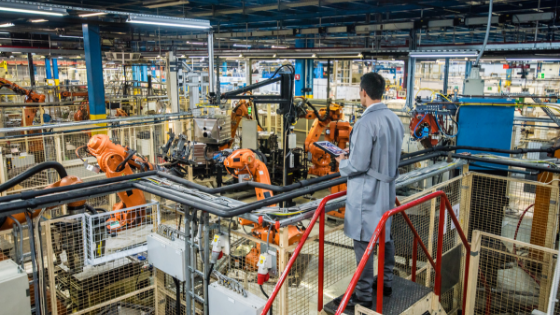 This post is part of a series focused on the manufacturing industry highlighting emerging trends affecting the employee and customer experience.
The manufacturing industry is on a tear. Strong growth, almost euphoric sentiment and the highest productivity improvements of any industry indicate manufacturing has its mojo back.1 It's such a great story, I just want to stop here and bask in the glow.¹ But, that little voice of due diligence won't be silent. Although the story is very positive, there is so much more potential, and modernizing communications can help unlock it.
It starts by letting go of the piano. My high school football coach was fond of shouting "let go of the piano" to increase hustle. The physics are clear, even for my graduating class. Manufacturers face a similar challenge with 75% of supply chain practitioners saying digital projects across their companies are not managed under a single governance process, making enterprise-wide integration a challenge, according to a recent Gartner survey. The result is that 70% of manufacturers trying to transform the digital operations of their business will fail to reach full potential due to outdated business models and technology, according to IDC.  
Manufacturers need to let go of this grand piano.
Take a moment for a quick assessment:
Is your phone service in the cloud?
Is your meetings/ video conferencing app in the cloud?
Is your team messaging app in the cloud?
Is your contact center phone service in the cloud?
How many flavors of each type of application do you have?
Is your environment all on-premise, a hybrid across and cloud, all in the cloud but on many clouds, or is everything on one cloud platform?
Aggregating the data from companies that have done this type of assessment with us, about 76% are still just starting their journey to higher levels of communication maturity. At best, they have some type of hybrid environment with limited analytics. (see how your company compares here )
To be fair, there's no need to call CPS (Communications Protective Services or Customer Protective Services) on these companies. Dial tone works, the phone rings and IT works hard to keep things running. No problem. In fact, business is good, as growth, increases in productivity, and europhorea about the future demonstrate. So why invest in new communications technology?
Well, let's step into the manufacturing CIO's shoes for a moment. Let's call him Mike (the most common name of Fortune 500 CIOs). What is on Mike's 2018 agenda? Well, to summarize what multiple research studies have found:
Revenue growth
That elusive digital transformation initiative
Increase profitability
Innovation and support of new products and services
Modern communications technology provides capabilities that positively impact each of these areas.  
A quick aside.
To move or not to move communications to the cloud is not the question. Modern communications are in the cloud. If your company is still contemplating whether or not to move, just stop. You know you need to move. The question is to which cloud. It's true that many companies have had poor experiences with cloud-based communications and now consider the entire idea bad. This generalization will lead you down the wrong path. Cloud communications are no different than other products and services: some solutions are poor, others are good and a few are excellent. If a previous poor experience is causing reluctance to move to the cloud, try a quick evaluation with a leader in call quality and reliability like 8x8.
Back to our topic – manufacturing.
Here's a simple use case to illustrate the possibilities. A manufacturer of small industrial robots used on assembly lines has showrooms in key cities to be close to their customers. They also have an eCommerce website and a contact center with inside sales and customer success agents.
Customers can review the various models on the company's website. They can even configure certain features and place the order, but they are seeing an extremely high abandonment rate. They don't have the data to understand the interaction between the web, showrooms and contact center to understand the root cause. Although simplified, we hear this type of scenario expressed by many manufacturers. The good news is CIOs can turn to communications to solve this challenge. The outcome looks something like this:
Customer reviews robots online. Configures one, but has a question. So they click the new "Chat" capability to ask their question.
The Chat agent answers the question and suggests the customer speak with an expert to verify delivery dates. A "Talk to an agent" button is presented to the customer.
The customer clicks on the button and is now talking with an agent who has the chat conversation, information about the customer and the ability to see what the customer is configuring.
After talking with the customer, the agent is able to determine that the customer would really like to see the robot in action to ensure it will meet their manufacturing line requirements.
The agent suggests the customer have a quick call with the closest showroom to schedule a demo.
The customer agrees, so the agent instantly connects the customer with the showroom representative who schedules the demo for that afternoon.
Each interaction point was captured so now the company can see the customer's journey and the interaction between the web, contact center and showroom. Using speech analytics, they get sentiment analysis based on 100% of calls to drive coaching and training. They now have visibility to call activity to better align resources in the contact center and showrooms.
Their communication costs are now lower and more predictable, IT has more time to work on innovation, and contact center turnover is lower, because agents are empowered to better support customers.
The key to delivering this type of experience is using a cloud communication solution based on a single platform that integrates voice, chat and messaging, meetings and contact center capabilities to create one system of engagement. This approach enables the ability to maintain content and context from chat to voice to a video conference. With all the capabilities on a single platform, it is also possible to make all the data available in a single data store to create one system of intelligence.
With all this discussion about one cloud platform, it's useful to take a moment and address the topic of best-of-breed vs suite. Essentially, which is better, one cloud or many clouds.  Think of it this way, do you want to manage multiple vendors, SLAs, roadmaps, integrations, and potential security risks, or just one? The answer becomes even clearer with three additional points:
User Experience
Multiple applications mean multiple user interfaces causing users to switch between them. Additionally, without integration across all applications, it becomes difficult to deliver the necessary and relevant information to your employees so they can provide customers with personalized engagements.
Administration and maintenance
Some manufacturers have gone down the best-of-breed approach, often just because they were solving for specific problems so a point solution was put in place. Now they have to maintain multiple applications in multiple environments with each roadmap evolving at different rates. One platform centralizes administration and maintenance making it quick and easy so IT can focus on more high-value topics.
Analytics
Having all the data in a single store makes it more complete and accessible in a meaningful timeframe.
It is much easier blogged than done but, retooling communications will have an immediate and positive impact on delivering Mike's agenda. And, if your company isn't moving to modern communications fast enough, tell them to drop the piano.
To learn more about how your company can ensure superior customer service, watch Sheila McGee-Smith share what you need to know about the trends shaping the evolution of contact centers over the next three years. In this short session, you will learn:
Why contact centers will be in the cloud by 2020
How business communications, contact center and CRM systems will evolve
How artificial intelligence and the Internet of Things will affect the overall customer experience
¹ Source for Growth and sentiment: http://www.nam.org/outlook/ and Productivity improvement: http://www.nam.org/Newsroom/Facts-About-Manufacturing/