Customer Service Survey
8x8 surveyed 2,000 British consumers to find out what challenges they faced when trying to speak to a company on the phone and learned that one in five people who call a business don't reach anyone.
What's worse is that 35% of those who couldn't get through to someone were new customers looking for information on products, trying to open an account or make a purchase. Businesses are therefore missing a large number of inbound inquires from potential customers who have taken the trouble to call them directly. View the full-size infographic here.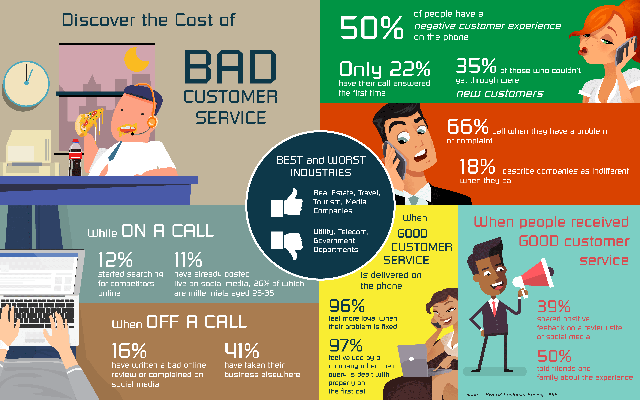 Technology Helps Improve Customer Service
The message for businesses is clear: make sure someone picks up the phone when a customer calls. It can be tricky for assistants in a frantic office or a busy contact center, but having the right technology in place can ease the strain. This would help route calls to the first qualified person who can respond to the inquiry, whether they're based in another office, another country or even another continent.
But the research also reveals this:
Even when customers do manage to get through to someone, with bad customer service businesses risk losing them to a competitor, sometimes even while they're still on the phone.
One in eight say they have started searching for competitors online during a call and a tenth have actually posted live on social media to name and shame a company during a poorly handled call. The problem is worse among people aged 25-34.
Over a quarter have gone online during a call to find competitors or complain.
One Chance to Make a Great Impression
A business has only one chance to make a great first impression and getting off on the wrong foot can destroy a customer relationship for good. That's why it's crucial to make every interaction count. Making sure customers are quickly directed to an appropriately skilled agent who is qualified to handle their call stops them from being transferred around to multiple agents and ultimately, getting frustrated. When customers are frustrated, they're more likely to turn to your competitor.