Contact Center Speech Analytics Software
Voice of the customer insights enable companies to optimize customer experiences through data-driven decisions.
With powerful 8x8 Speech Analytics, you can now analyze a full spectrum of your customer interactions and listen to the most important ones, rather than randomly selecting a small percentage of calls and hoping to identify patterns and problem areas.
8x8 Speech Analytics searches customer interactions for compliance, customer insights, and agent performance purposes. Now companies have the visibility needed in order to:
Gain awareness of problems as well as opportunities. Supervisors can drill down and listen to calls that are grouped into pre-defined, customizable categories

Boost productivity and agent performance through more productive coaching

Reduce costs associated with agent churn by immediately identifying and rectifying problem areas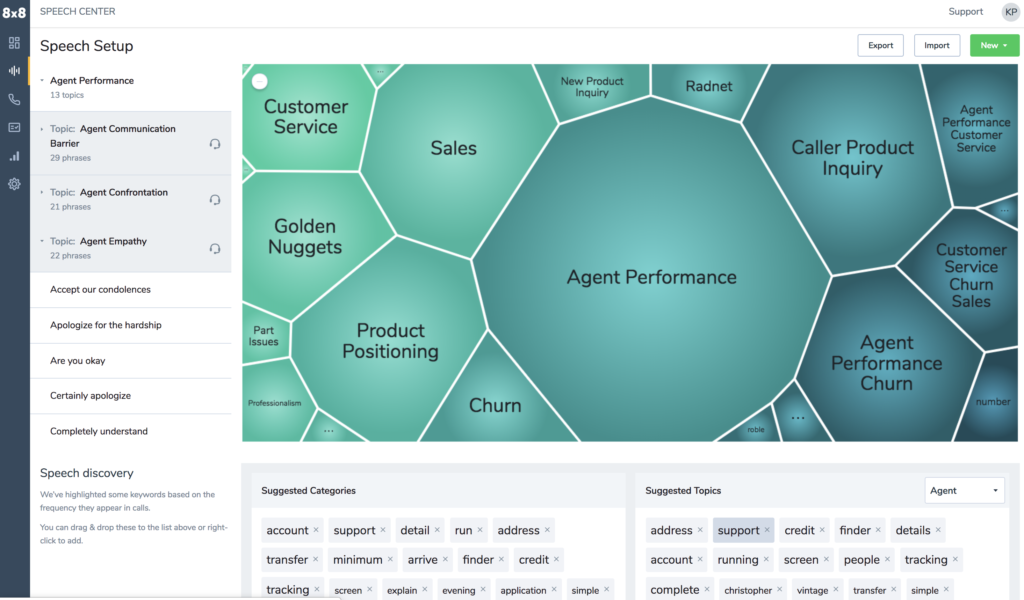 Collaborative Performance Management
Speech Analytics supercharges 8x8 Quality Management through more efficient, targeted feedback. Supervisors can quickly and easily identify role-model calls or segments of calls, and share them with other agents who could benefit from this training.
And when problem areas surface, supervisors easily collaborate with agents by:
Sending real-time coaching tips, and attaching relevant files such as documents, example calls, or segments of a call that needs improvement

Providing immediate feedback to agents

Enabling agents to easily respond with follow-up questions, developing effective, engaged agents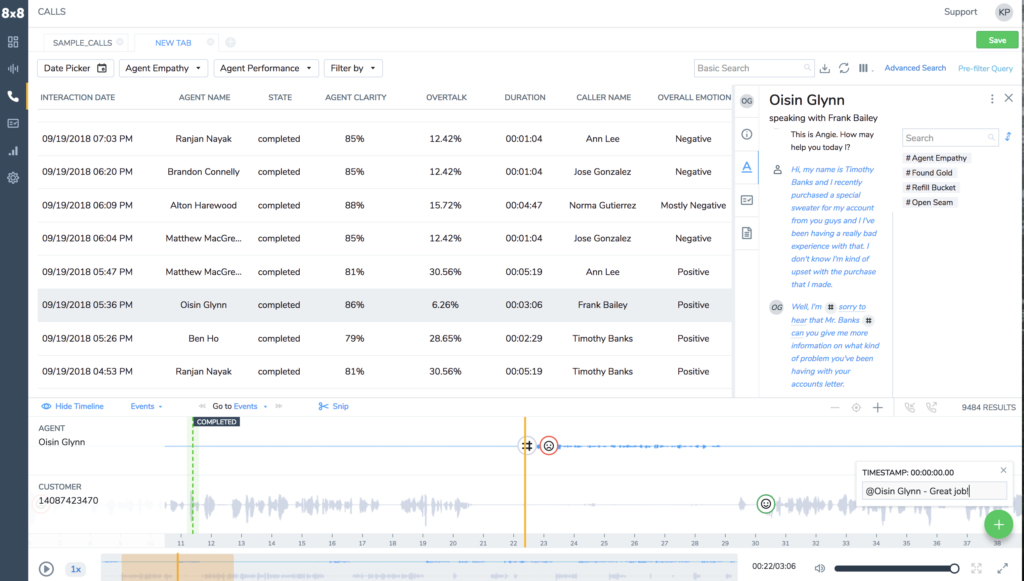 Now coaching becomes a dialogue between the agent and the supervisor, driving interactive, collaborative fine-tuning of agent performance.
With cloud-based 8x8 Speech Analytics, your time to value is immediate.
Out-of-the-box, a library of predefined categories and topics get you started

Adding new categories, topics, and keywords is fast and easy

You eliminate costly professional services associated with competitive solutions