Real-Time Monitoring for Your Contact Center
---
Stay on top of everything with real-time monitoring of your contact center.
---
8x8 Virtual Contact Center software monitors real-time contact center statistics including:
Queue information
Interactions in progress
Agent stats
Other key performance indicators (KPIs)
Real-Time Contact Center Monitoring
An easy-to-configure "wallboard" shows the data required to ensure SLAs are met and provide the best customer experience possible.
Supervisors can stay on top of what's going on without being tied to their desks—with displays on wallboards, tablets or mobile phones.
Customized roles and views empower everyone with the right information to do their jobs.
Role-specific logon authorizes supervisors to monitor agents and customer interactions from any location. Supervisors' access can be limited to the specific group of agents they manage.
Barge-in feature allows supervisors to monitor agent calls and "barge-in" to the call in progress if assistance is required—or provide suggested answers through chat.
Ensure quality of call center customer service and sales.
Track and improve call center performance.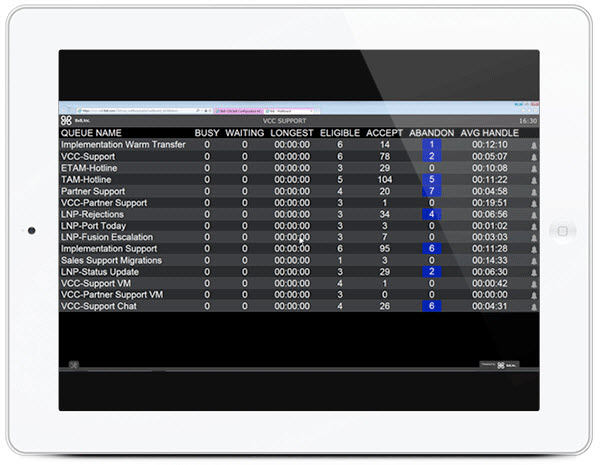 Monitor queues, agents and interactions from anywhere.