Call Center Interaction Channels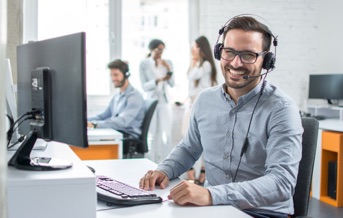 IVR is a critical component of any contact center, allowing customers to get quick answers to simple questions and helping companies identify the right resource to help a customer with a given issue. As contact centers look to add more intelligent interfaces to expedite customer access and improve experiences, 8x8 sees opportunity to expand what is considered the interactive voice response solution.
8x8 offers two IVR products:
8x8 IVR is a powerful tool to help customers find the information they need. Learn more →
8x8 Intelligent IVR uses the power of AI to connect
 callers with the spoken word. Learn more →
8x8 IVR
Included with every 8x8 Contact Center license
The 8x8 IVR is included with every Contact Center license. 8x8 IVR provides easy-to-create menus and simple self-service capabilities that allow the contact center manager the agility to keep up with changing requirements through simple edits to the IVR flow. 8x8 IVR will help customers find the information they need and allow the contact center to automatically route the customer to the best available agent.
8x8 includes 8x8 IVR with every 8x8 Contact Center license
Automatically route caller to best available agent
On-line menu for creating call flows
Self service administration interface for simple IVR edits
8x8 Intelligent IVR
A premium option available to 8x8 Contact Center
8x8 Intelligent IVR connects callers to the best fit agents or departments by allowing them to simply speak the person or department's name or make a request. Hospitality businesses have utilized the conversational AI capabilities to assist in the reservation process by acting as a virtual concierge for guests. Government organizations can use the 8x8 Intelligent IVR to assist motorists with a hands-free way to report and get information about traffic conditions 24/7. From retail to healthcare, the benefits of incorporating intelligence into the IVR can help provide a better customer service.
Benefits of 8x8 Intelligent IVR:
Customer requests without using DTMF interface
Increase efficiency (time value) of 8x8 Voice Agents
Reduce system costs by reducing need for live agents
Improve customer experience by reducing time to answer
Allow live agents to better handle calls needing SME
Progression toward 8x8 AI