Personal Agent Connect
---
The 8x8 Virtual Contact Center Personal Agent Connect feature allows you to build direct relationships between your customers and agents by giving customers direct access to a specific agent—with powerful control over those interactions. Agents can provide a direct number to a customer allowing them close sales (or help tickets) more quickly and with a higher success rate. The feature can also be used to automatically connect callers with the agent they last spoke to, boosting customer satisfaction and accelerating ticket close rates. 
---
Get closer to your customers while staying in control
With 8x8 Personal Agent Connect, your agents can build direct relationships with your customers, improving the customer experience and creating stronger brand loyalty. This capability can be used in two ways:
Agents can provide customers a "direct number" to call:  The agent can provide the customer with a specific number, controlled by Virtual Contact Center—that routes directly to the agent.
Last agent routing: 8x8's Virtual Contact Center also tracks the "last agent called" and the "agent who created a customer's ticket" field so you can send customers directly to the person who has the best knowledge of the customer's issue.
In either case, the functionality is the same. When a customer calls and the right agent is identified and available, the customer is sent directly to the agent—with full Virtual Contact Center control, monitoring and reporting.

The real value of the feature shines when the agent is NOT available. In this case, the system checks a script for instructions on what to do next. The options could be to route to a "buddy agent," to send the caller to the agent's voicemail or to route the call to a backup queue.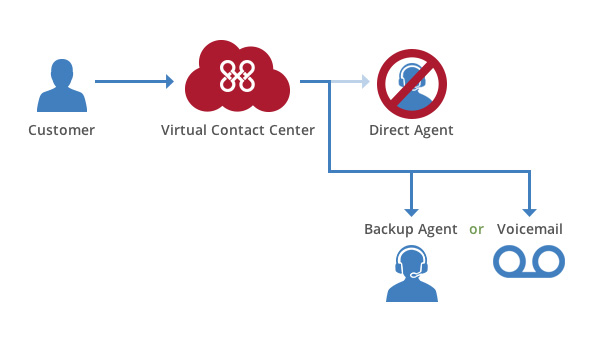 This feature gives your system administrator full control over the customer's journey, through a simple scripting tool that defines how direct agent calls are to be handled.