The Hybrid Effect in Cloud Communications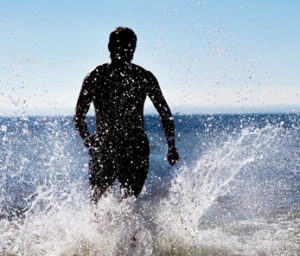 Over the last couple of years, we've been hearing more about hybrid cloud computing and communications as companies consider cloud as a strategic business initiative. In March at Enterprise Connect, it was certainly a hot topic of discussion and there seemed to be a demonstrable shift in opinion on cloud in general. It's fair to say that 2016 may in fact, be the year that many CIOs seriously explore the cloud model and start to modernize their business communications. But the biggest question for most CIOs likely remains: Do I go all in or stick one toe in at a time?
Foot or Toe?
As companies get more serious about cloud implementations, they start thinking about what it would really mean to their business. This is when a hybrid solution sounds like a reasonable, low-risk way to start the move, so they can keep existing infrastructure and just slowly move pieces to the cloud.  So what could be easier and lower risk than that? It's not going all in, but definitely dipping a toe or two in the water. These companies will find a good ally in their premises-based system vendor who will see this as a way to lock the customer into their next release and keep them on board for another 3-4 years.
Hybrid offerings generally consist of a dedicated instance of an application setup for a company's specific use, either in the cloud or in a private infrastructure. This instance can be used to either add functionality or capacity to existing implementations and allows the company to keep their specific configuration and applications, enabling them to take a phased approach to the cloud – moving one function at a time, or perhaps simply have the cloud available for overflow.
Best…or Worst of Both Worlds?
Hybrid advocates bill this model as the best of both worlds, making it appear like businesses can have their cake and eat it too. It certainly allows companies to move to the cloud in a slow roll and gradual manner that lets them add capacity without necessarily having to build out their own infrastructure.  Additionally, they can keep sensitive customer data onsite, while still having infrastructure in the cloud. But is this the right call, and do you ever come out ahead?
The biggest benefit of hybrid cloud solutions is the ability to move to the cloud without dramatic changes to your business. You can keep your custom system the way it is, avoid change and move infrastructure off of your premises. This may work for some applications like data storage or more back-end type applications, but for something as visible and mission-critical as your business telephony infrastructure or global contact center, moving to a hybrid solution can ultimately be very limiting.
In fact, we see a number of issues when moving from on-premises to a hybrid model – a move that may not net you the desired results and may significantly compromise your system:
Upgrades: We are all familiar with this one – with a highly customized hybrid cloud, any upgrade to the software will require significant testing and regression work to make sure nothing is broken and will work moving forward.
Integrations: An integration between two custom built systems requires a great deal of services to pull it together, and whatever you do, just don't touch it once it's working! Contrast this to a pure cloud model, where vendors have pre-defined API calls to make it consistent, fast, and easy to build the integrations.  8x8 has extended this model by adding EasyConfig for Salesforce Integrations and the integration works out of the box, and now the contact center manager has a tool to change how the integration works on the spot.
Adding features or functionality: While a hybrid option seems like a safe way to add functionality, you still need to go through the same level of integration into your infrastructure to add a custom function onsite as you would with a hybrid cloud- based solution. So if you're locking yourself into a hybrid solution, it ends up being a similar amount of work as an on-premises system.
Staff and resource availability: This is probably the biggest promise of a hybrid solution: Just move the cost and effort of managing a system to the vendor and let your IT staff focus on more critical tasks. But how real is this savings if your vendor is managing a one-off single implementation of chunks of your system, and you still need staff to manage what you have on premises?
Sounds to me like this is additional IT costs and overhead – it's just that you are managing some of it with a check to your vendor instead of with more bodies.  With a pure cloud solution, vendors are better able to take advantage of the economies of scale that you can't get with the private, hybrid deployment approach.
Winning with Pure Cloud
When businesses look at the cloud, there are a number of concerns that hold them back:  Security, reliability, and control are always chief among them. It's true, you should not move to the cloud without understanding the implementations around these concerns or any others. Like any leading, reputable cloud vendor, at 8x8, we have significant experience in all of these areas and can show you how our pure cloud solutions can actually make your data more secure, provide uptime near 99.999% and arm your staff with the tools and insight to have greater control over your systems and customer experiences.
As I mentioned in the beginning, the conversation around hybrid implementations seems to be stemming directly from customer realization that cloud is for real.  It's already happening all over the Contact Center and Unified Communications spaces. But you may be thinking that the best move is to go in gradually to minimize your risk. My advice is not to let the move paralyze you, and go all in. Many of the biggest advantages of cloud implementations (seamless, rapid integrations, the latest software revs, vendors constantly adding breadth and functionality to their portfolios) require you to take the big step all at once – and when you do, you can truly set yourself up for success in the long term. Just make sure that you select a partner who provides strong deployment services to help your team realize the full benefits of moving to the cloud.  Look for a partner who can get you online quickly with minimum impact on your business, without locking you into a limited architecture from the past that will stifle your innovation and growth. There are many examples of large enterprises and SMBs alike that are now making this move every day to drive their business forward and reap the numerous benefits of cloud.
There's a great big pool out there, so take the plunge. In the end, you know it's always harder to go in one toe at a time!