The Age of Truly Unified Cloud Communications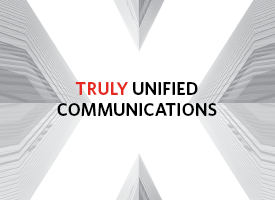 Yesterday we launched 8x8 Virtual Office® Editions, a new suite of products that revolutionize the business communications industry by unifying cloud communications, collaboration, online meetings, and contact center solutions with a best-in-breed data analytics platform. Representing a combination of technologies from years of continuous innovation from 8x8, this launch signifies the new age of Truly Unified Cloud Communications.
So why are we taking an industry leadership position again, and placing a proverbial stake in the ground? Because we believe there are fundamental truths that the industry is failing to address. Siloed communications systems as point solutions that include telephony alone, separate conferencing solutions, one off messaging solutions, and purpose built contact centers, are critically slowing down an organization's ability to make decisions and resolve customer issues. By utilizing only isolated functions and segregating valuable business data from key decision makers, these silos divide organizations, departments, employees and drive away customers.
Because we own all of our technology, 8x8 is changing the way companies communicate both internally and externally. We are unifying disparate systems on our single cloud communications platform, ensuring companies can easily communicate, collaborate and engage with employees and customers. Plus through our data analytics platform, companies can now finally extract the valuable insights from every interaction in real time to reduce time to decision and accelerate time to revenue.
With the launch of the new 8x8 Virtual Office X8 edition, the present meets the future for truly unified cloud communications. The X8 edition is the industry's most unified offering, weaving together communications, collaboration and contact center all into one solution. This means no more communications silos between sales, marketing, support, finance, IT/help desk, and other departments, enabling companies to connect everyone throughout the organization so employees and customers can seamlessly communicate, problem solve and make decisions faster and better than ever before.
We could go on and on, but better yet, visit 8x8.com to learn more about how 8x8 is transforming the business communications industry to help companies run faster and smarter.