Q&A with Daniel Velazco, 8x8 Referral Program's $10,000 Winner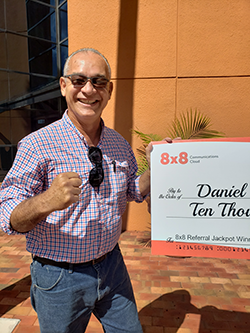 Daniel Velazco, owner of Nore Services, LLC., is an IT consultant specializing in telecommunications. For more than 30 years, Daniel's clients have turned to him for advice about their communications systems, and Daniel prides himself on recommending services that deliver an integrated solution with everything his clients need to connect with customers.
He is also the winner of a recent 8x8 Referral Program jackpot drawing, receiving the grand prize of $10,000. Daniel referred 8x8 to one of his clients, medical research firm Clinical Research, thus entering him into the sweepstake that led to his big win.
Daniel shared with us that what he likes most about 8x8 is the company's technology leadership, its products' ability to meet the new speed of business and the 8x8 Referral Program's dedicated partner support. We caught up with Daniel to discuss his clients' evolving communications needs and the top requirements they look for in a provider.
Amelia: What is your favorite thing about being an IT consultant?
Daniel: As a trusted advisor to my clients, I like to find the best solutions with the most advanced technology and provide excellent service while meeting their expectations within the timeframe and budget provided.
Amelia: Businesses are moving faster than ever before. You've been an IT consultant for more than 30 years—how have your clients' communications needs changed in that time?
Daniel: There's no longer a need for equipment—everything is internet and software-based. Budgets are more cost-effective and clients can make simple changes on their own without needing to hire a specialist to come in and make those changes.
Customers are moving to the cloud and away from the private branch exchange (PBX) model where they are paying a lot for equipment and training. Now customers can configure programs themselves as opposed to hiring someone on staff to receive complicated training or outsourcing help, costing them more money on top of the cost of the equipment.
Amelia: Clinical Research is a 10-person company located in Miami, Florida. Why was 8x8 the right fit for them?
Daniel: I have to provide a solution for my clients that includes phone communication and other collaboration capabilities at an affordable price. 8x8 is the perfect solution to accomplish that for them—it's an amazing technology platform at a great price.
Clinical Research is extremely happy with its 8x8 phone system because it's easy to use, has lots of functions needed for day-to-day operations and the company gets this all at an affordable service cost. The team likes that it is virtual—there is no physical phone system, like with traditional hardware. Everyone is really happy with the results and the cost of the system.
Amelia: What stands out about 8x8's products?
Daniel: I like 8x8 because it has multiple functions that allow you to do so many different things on one platform. You can control incoming and outgoing calls, hold video conferences and chat. These combined features are perfect for users who need a true virtual office setup—all you need is internet access.
Amelia: If someone asked you why you refer 8x8 instead of another cloud communications provider, what would you tell them?
Daniel: I refer my clients to 8x8 because it has the best support and infrastructure to accomplish all of a business's virtual office needs worldwide, local and remote, at an affordable cost.
Ameila: Thank you, Daniel and congratulations.
Daniel: You're welcome.
Join the 8x8 Referral Program today and earn up to $100 for each qualifying extension—up to $15,000 per referral. Once you refer someone to 8x8, our team will reach out to your referral and help them decide which 8x8 solution is the right fit. It's that easy.
Answers were edited for length and clarity.