Office Manager: How to Use Business VoIP to Save Money and Boost Visits
I'm the office manager for a dental office, and I just have to tell you a secret that we've learned in our dental practice: If you have the Internet in your office, you can get a lot more for your money by ditching your local phone service for a VoIP (voice over IP) service like 8x8. We've used "regular" old business phone service for years, but now we've learned a much better way to use our phones in the office, and I'd like to share with you what we've done.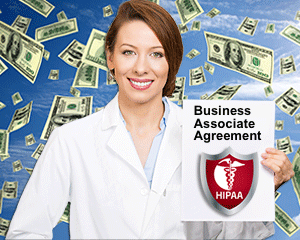 You don't need to be scared by all the stuff you hear about the Internet. At our office, we feel completely safe knowing that we can answer phones, block junk calls, and safely fax important papers right over the Internet. The key is to team up with a company that complies with federal regulations and gives you something called a Business Associate Agreement. This will signify that your phone provider satisfies the HIPAA/HITECH medical privacy regulations for your phone, faxes and other communications services.
HIPAA Compliance Is a Must
When we first dropped our local phone service for VoIP phone service—through Ooma—we thought we were on the right track. VoIP phone service was definitely more cost-efficient for our office. But then we started to worry. Not all VoIP phone services comply with HIPAA, and we needed HIPAA compliance. (So does anyone who handles and stores protected medical information.) We also have to document our compliance, in case we were ever audited by the HIPAA people. But when we asked our provider if we could get a Business Associate Agreement to document Ooma's compliance, the answer was no.
So we had to try again to find a company that was safe and reliable and complied with HIPPA/HITECH regulations. That's how we came to drop our local phone company in favor of 8x8, which offers the best business VoIP phone service ever for our office.
Here's what I like most:
* Peace of mind knowing that we are HIPPA/HITECH compliant
* Being able to use our time more wisely in the office
* Easy screening of junk calls, with caller ID
* Knowing that the service we get from 8x8 is well worth what we pay for
* Tech support from some of the best people I have ever worked with
How You Save Money with 8x8 Business VoIP Phone Service
Have I saved a lot from going this route? Yes, many times over. Let's take a closer look at where those savings come from.
First, it cost a lot for an answering service that might or might not record the messages and phone numbers correctly for you. With 8x8, this is all taken care of, because you'll hear  messages coming in and be able to call directly to the patient no matter where you are. Out of town? No problem! You're covered at home, too. 8x8 will forward the message right to your iPhone or any other mobile phone via the app that comes along with your service. So you can also close your contract with your emergency after-hours phone service, and save even more.
No More Clogged Answering Machines with 8x8 Business VoIP
And if you're like me, you just love Monday mornings, with requests to make an appointment ASAP clogging your answering machine. I don't have to worry about that anymore. I just open the app the night before, review the messages and then go right to my schedule to see where to fit them in.   My dental office software is in the cloud, my new phone service tech support is just as great as my dental software team!
How to Show Patients You Care and Boost Visits with Auto Attendant
If you want your patients to hear certain announcements when they call in, you can set up your auto attendant to target specific messages depending on what number patients push. You don't pay extra for this feature, and you can drop your expensive prerecorded sales messages and design your own ads for free.
Our office staff also likes the fact that we can trail any call that comes in. We are able to print a call list out and call back the patients who don't leave messages. It has really brought in more revenue when we are out of the office. Patients will not always leave a message on your phone answering machine. But they love it when you call them back and say, "I saw your phone number on our call log, and I was wondering what can I do for you!" It will bring in more and more customers to your office, and your patients know that your team will always call them back!
Business VoIP Phone Service That's Easy to Use and Puts YOU in Control
You're probably thinking, "It must be too complicated."  Lots of people think that way before they talk to 8x8. But all of our questions were answered by their award-wining sales and tech teams when we signed on.
My Favorite Features of 8x8 Business VoIP
In running the technology in our office, I can say firsthand that the 8x8 team is very capable of running our phone system, hands down.  I only choose top-of-the- line companies to work with, because my time is valuable in running our office.  Oh, by the way, you can downsize your staff using this phone system as well.  We have a very small staff, and I have all of the technology working great in our office!
In addition to everything I've already mentioned, here are a few more great 8x8 features:
A great auto attendant that you won't ever want to do without!
Message checking from anywhere
Mobile apps for calling patients on the go
8x8 has lots of experience supporting medical and dental providers, so that is a big plus, too. There is much that this team can give you at a price that the phone company cannot beat!
And don't be fooled into a phone company that offers you a VoIP package as an add-on to basic phone service. Also, don't be too quick to go with Internet providers that throw in digital phone service with their service. You simply cannot be without a Business Associate Agreement. Don't put your practice at risk; 8x8 is a better way to secure your fax and phone services.
To learn more about 8x8 business phone services, click here.
Editor's note: Cheryl Long is an office manager at Dr. Long's dentist office. She sent this unsolicited testimonial to 8x8 to help others who are wondering what to do about their business phone service.