It's All About the Agent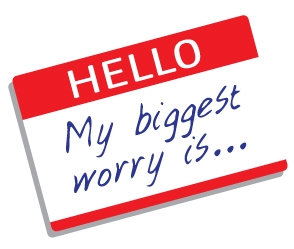 I'm at Call Center Week in Las Vegas this week and it got me reminiscing about my experiences last year.  No, not the local shows I saw or the side trips to different casinos or the big money I won.  (I NEVER win big money, my wife did once but that is another story…)  I'm talking about something I saw at the show.
In addition to the regular name badge at the show, people who registered were given a second name badge–the kind you would see at a high school reunion or at church that typically says "Hello, my name is…"  The badge said "Hello, my biggest worry is…"  And they had a big wall where everyone could stick their "worry badges."
I glanced at the wall, and very quickly found myself getting sucked in.  We all have access to all sorts of information on industry trends and metrics but somehow, seeing physical stickers arranged randomly on a huge wall was a compelling way to take in data.  I found myself looking at the wall and reading, and categorizing and…
I know, it's not scientific. It's kind of random, yet for some reason I felt it was a far more compelling dataset than anything you get from reading analyst reports or paid research… So what did I find?
Almost 40% of the stickers were about churn

Losing my call center agents
Keeping my agents excited about working here
Building a workplace where agents want to stay

Another 20% were about agent performance and coaching

Identifying and coaching low performing agents
Rewarding and retaining my best agents

About 10% were about agent training and on-boarding

Helping my agents get up to speed faster
Making sure all my agents can learn what they need to quickly
There were a few items about multi-channel interactions, understanding the customer journey and even a couple of comments about facilities, but for the most part the dialog was all agents all of the time.  Between those categories I think I logged 80% of all the comments.
OK, so I've worked for one contact center vendor or another for most of my 25+ year career.  I love to tell stories about millennial consumers and how to deal with the changing customer landscape.  Those are important and interesting, but my biggest learning that day at CCW was that the agent is the foot soldier in the contact center–that is what people care about.
If you were a lieutenant responsible for a platoon and were getting ready to head into battle, your focus would be on keeping your guys alive and making sure you held up your end of the battle, at that moment the geopolitical implications of the war would not be a high priority.
It's the same for contact center managers.  They worry about their team taking calls:  Are they properly cared for? Do they know what they need to know? Can they get to the data they need quickly?  A soldier in a platoon really can't leave in the thick of battle, but a contact center agent can bail on a dime if he or she is not happy, so how do I make sure I keep my agents?
So duh… 
This was a revelation I should have gotten to on my own, but it took a wall full of badges to get me there, and one that has really changed my perspective.  It has been a year since 8x8 acquired Quality Service Corporation.  It was great news then and it's even more exciting this year, as I'm back in Vegas with a demo of our new Quality Management system.
If you are at CCW this week, drop by our booth (#1008) and say "Hello!" I'd love to show you a demo and get you all caught up on 8x8's Quality Management solution. It is indeed, all about the agent.