Experience the New Speed of Business at Enterprise Connect 2019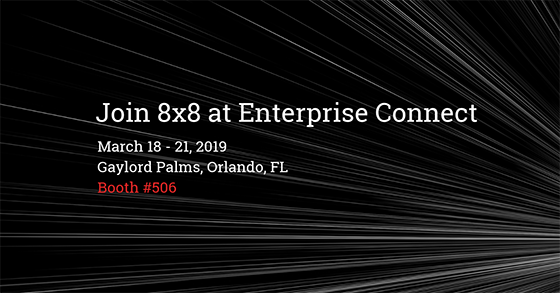 We hope you'll join us at Enterprise Connect 2019 (EC '19) in Orlando this March 18th through 21st to take a deep dive into enterprise communications and collaboration technology. There will be over 60 conference sessions—including many sessions and panels with 8x8 customer and executive speakers. Here are some of the not-to-miss events at this year's Enterprise Connect.
Meet 8x8 at Booth 506
There will be live demos at the top of every hour, focused on how 8x8 can help you meet the communications and collaboration needs of your support team, your sales team and mobile workers throughout your organization.
Want to schedule a time to talk with one of our specialists at the show? We'd love to connect. Reach out here and we'll find a good time to give you a personalized demo.
EC '19 Recommended Sessions
Stopping by our booth is just one of the ways to learn about how one cloud communications platform can give you the insights you need to make crucial business decisions and to do so at the speed of modern business. Throughout the conference our team will be talking about using artificial intelligence to get better business insights, building better customer experiences, unified communications essentials and how to create a truly collaborative enterprise, among other topics.
| | |
| --- | --- |
| Leverage AI to Accelerate Contact Center, Productivity and Insights | Transforming Communications to Meet the New Speed of Business |
| Hunter Middleton, VP of Product Management, will talk about using artificial intelligence to get business insights and better productivity from your contact center. His talk will be Monday, March 18th from 3:40pm to 4:00pm in the Expo Hall, Theater 220. | Meghan Keough, VP of Corporate and Product Marketing, will talk about using communications technology to move at the speed of modern business. Her talk will be on Tuesday, March 19th from 3:10pm to 4:00pm in the Expo Hall, Theater 220. |
There will also be several panel sessions featuring 8x8's team and customers, including:
Communications & Collaboration: What's the Way Forward?
Vik Verma, CEO, 8x8
Monday, March 18th 10:15am
UCaaS Bells & Whistles vs. Nuts and Bolts
Dejan Deklich, Chief Product Officer, 8x8
Tuesday, March 19th 8:00am
Enterprise Summit: Planning for a Future of Constant Change
Dan Metzger, Unified Communication and Collaboration Manager, Conde Nast
Tuesday, March 19 9:15am
Enterprise Case Studies: The Evolving Roles of CRM and Contact Center
Jim Bunch, Senior Manager, Salesforce & Telephony Platform Service, HomeAway
Tuesday, March 19th 3:00pm
Keeping Your UCaaS Migration on Track
Kim Estrada, Senior Director of Professional Services, 8x8
Wednesday, March 20th 8:00am
Cloud Contact Center Faceoff
Hunter Middleton, VP Product Management, 8x8
Wednesday, March 20th 2:00pm
User Adoption Success Stories and Best Practices
Kenneth Neimo, VP, Customer Engagement Platform Technology, Laureate
Wednesday, March 20th 2:00pm
What's in Your Enterprise's Collaboration Toolkit
Meghan Keough, VP Product & Solutions Marketing, 8x8
Thursday, March 21st 9:00am
For more details about the sessions with 8x8 speakers, check out the complete abstracts here.
If you'll be at Enterprise Connect, don't forget to schedule a time to come by for a personalized tour—we'll be at booth 506. If you can't make it, make sure to check this page to follow our Twitter updates—or just follow @8x8 and #EC19 on Twitter.