8x8 Launches Enterprise-Grade Team Messaging Solution

Are you like the 91% of businesses that have two or more collaboration apps in use across your organization*? Has "collaboration" come to mean juggling multiple applications? What if you could provide your employees with one application for voice, video meetings and messaging? We at 8x8 have been hard at work building applications to help transform communications and we have some exciting new capabilities we're launching today.
Business Collaboration Made Simple
8x8 Team Messaging
Company-Wide Deployments
We provide one application for team messaging, voice, and meetings. It's available anytime, from any device. With one click you can move from a group chat to a video conference, making work easier and faster. Unlike other team messaging applications, we provide instant access for all employees, so that collaboration can occur across departments, business units and project teams, not just within small groups or pockets of the organization.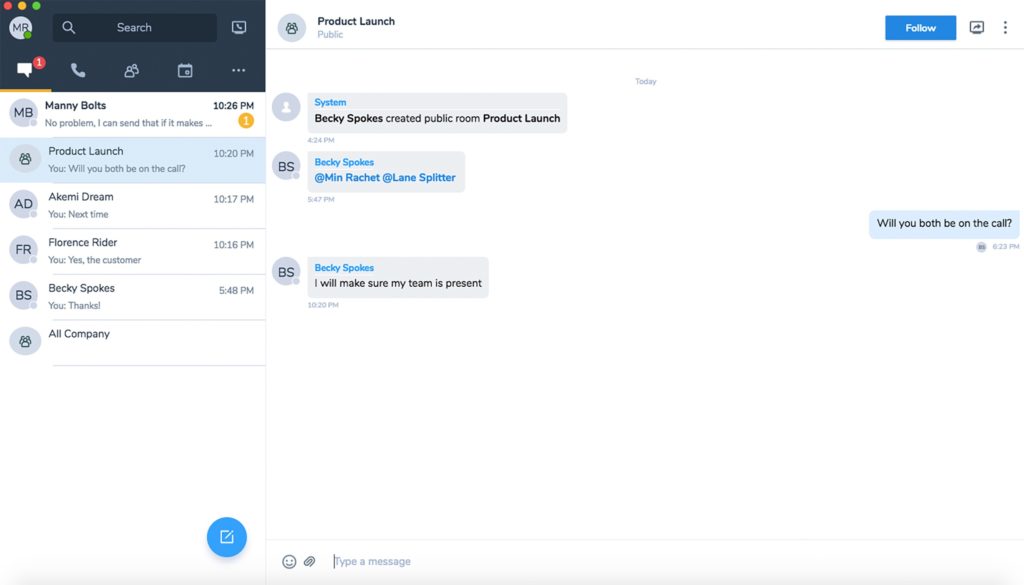 Public and Private Rooms
8x8 Team Messaging now supports both public and private Rooms so you can choose the audience with whom you collaborate on different topics.  Where legal teams may want to collaborate on projects in an invite-only private room, marketing may prefer a public Room through which they can share company-wide updates and encourage transparency. You can @mention people, share files, send emojis, view read receipts, see presence, and follow or unfollow specific rooms as necessary to control your notifications and reduce the overall noise often associated with team messaging.
Universal Messaging
As mentioned, we realize that 91% of businesses have 2 or more collaboration apps in use. That's why we provide real-time interoperability with 3rd party chat applications through our Sameroom feature. Enable all messaging apps to work as one within and across companies—this means you can have cross-platform team messaging with Slack, Chatter, and 20+ more messaging apps.  8x8 Team Messaging bridges these islands of communication and connects everyone while allowing them to continue using the application of their choice. This "bring your own messaging" mantra is unique to 8x8 and something our customers are seeing great success with.
Real-time Collaboration with Partners, Vendors and Suppliers
Want to use team messaging with your partners or vendors? Now you can create multi-company rooms using our Sameroom feature to communicate real-time with external partners so collaboration doesn't have to be limited to just within your organization.

Learn more about 8x8 Team Messaging today.
Meetings
Increased Number of Participants
8x8's Meetings enables you to easily collaborate from anywhere on any device using the most integrated video and audio conferencing, with HD quality and instant screen sharing.  We are dramatically increasing the number of participants everyone can host in a meeting. X Series X2 and above will now have video and audio conferencing available for up to 100 participants. We have made collaborating through Meetings simple and believe this greater capacity will help you bring the right team members to every meeting, no matter where they are located. We deliver reliable, crystal clear video and audio conferencing quality so you can conduct shorter, more productive meetings.
The Most Integrated Video and Audio Conferencing
As with 8x8's Team Messaging, consolidating multiple apps for video conferencing, team messaging, and telephony into one app has an immense impact. Instead of asking your employees to download 3 or more apps, they now only need one – no more swivel chair for them! With this level of integration, it takes just one click to move from call to chat to video conferencing while maintaining content and context along the way. This level of consolidation also means only one application to administer and configure for IT. Now they can focus on higher-impact work with the time savings.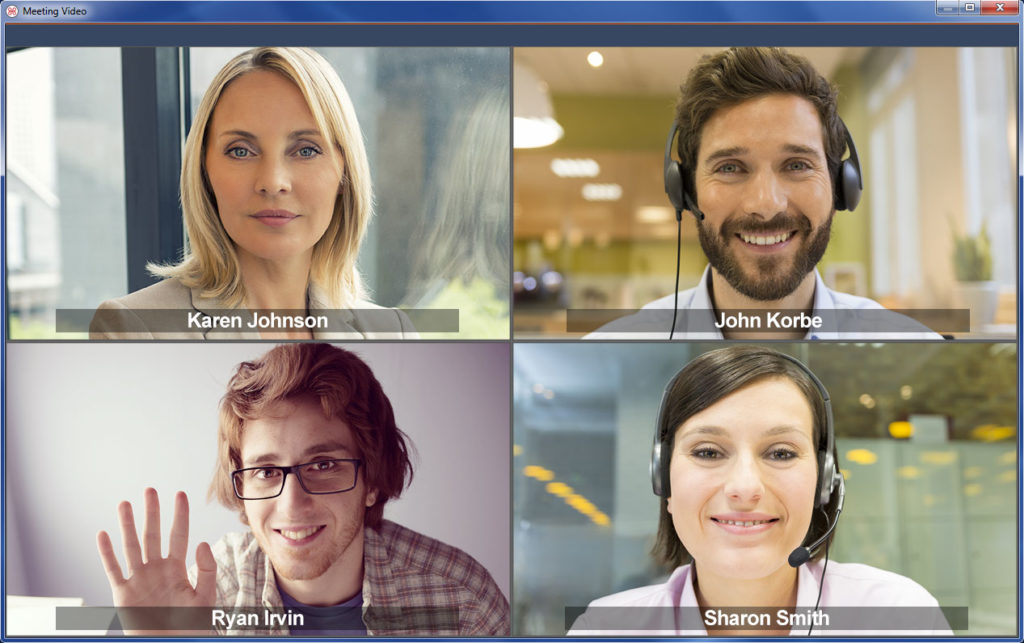 Learn more about the details of 8x8's Meetings here. The increase to 100 participants will be available to all customers in mid-November.
Polycom Phones
We want to make it easier for everyone to communicate in the way they prefer. We partnered with Polycom to be a launch partner for their new VVX 150, 250, 350, and 450 phones which are now available. Buy the latest and greatest phones through 8x8, and you can move a call from a desk phone to mobile to a conference room to your desktop app. We have tight integrations built in to Polycom phones, such as operator switchboard, phone paging, starting in-room meetings, and more.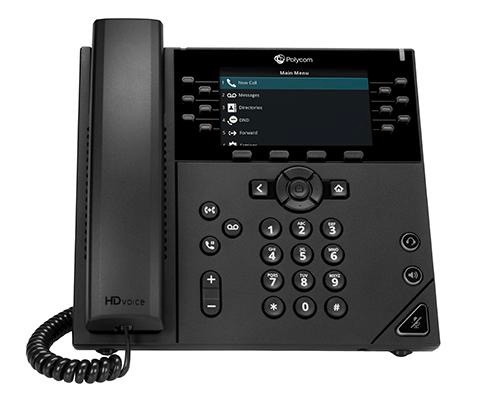 View these new Polycom phones or our full selection of equipment to learn more about specific features.
One System of Intelligence
We are continuing to expand our one system of intelligence. Now, with X Series you can view reports showing the number of calls you receive during business hours and outside of business hours. With these insights, you'll be able to better staff your organisation. Missing a lot of calls early in the morning? Now you can know to staff someone an hour earlier to capture these valuable moments of engagement.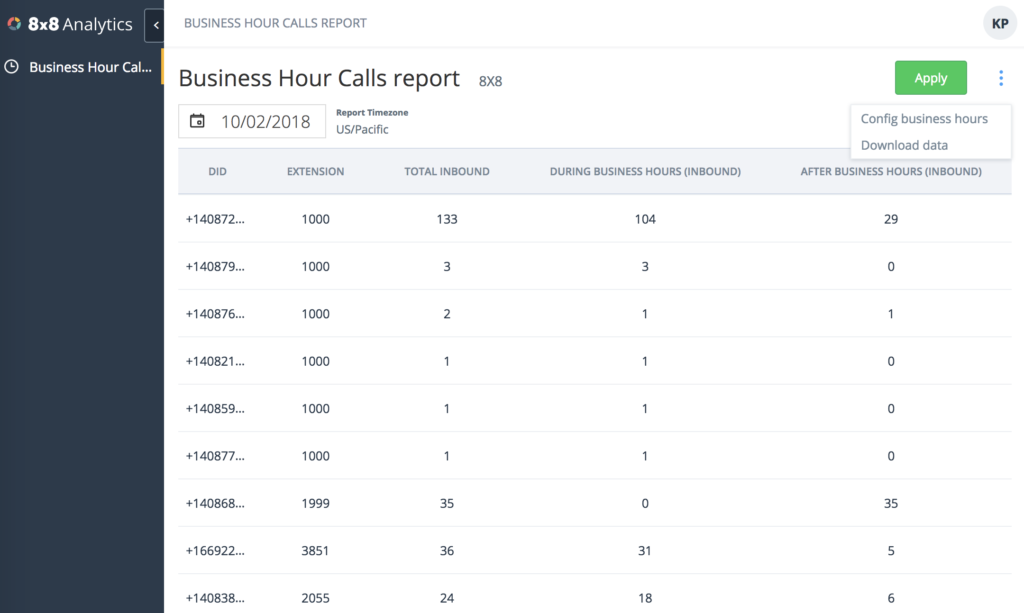 By having one data model underneath one platform, we are able to deliver actionable business insights to you. We do all the heavy lifting to ensure the data is accurate and you are able to consume analytical dashboards and reports. We'll continue to incorporate more of our AI and machine learning capabilities into the solution to help you make proactive decisions.
See 8x8 Team Messaging in Action
We're excited to debut these new features and hope you are too. Our goal is to help you transform your communications and optimise your valuable moments of engagement. Watch the video below to see 8x8 Team Messaging in action:
Interested in learning more? Contact Us.
* Source: NoJitter survey