VoIP Mobile App for iPhones
Get Your 8x8 Virtual Office phone extension to go…on Your iOS devices.
Manage your business communications from anywhere
The Virtual Office app allows you to harness the power of the 8x8 Communications Cloud. Make secure business calls from anywhere. Easily access personal and business contacts. Take your productivity to the next level with team messaging and collaboration. Remotely participate in online meetings. Do it all from the 8x8 Virtual Office app for iPhone.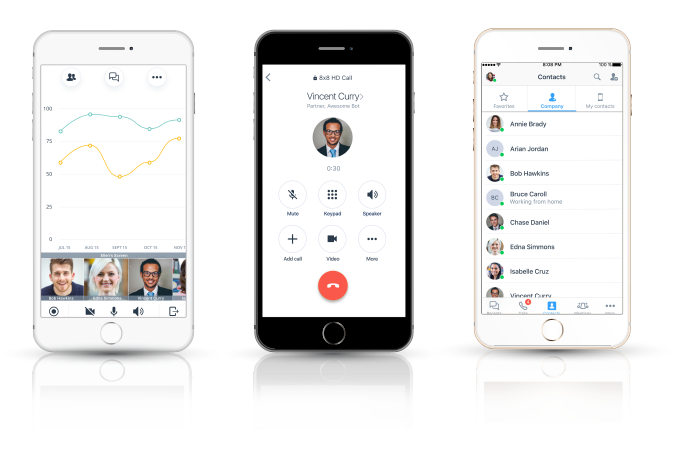 Let's Get Mobile
If you have an 8x8 Virtual Office extension, you've got Virtual Office Mobile! Why not give it a spin?
From your device, search for 8x8 Virtual Office in the Apple App Store.
Download the 8x8 Virtual Office Mobile app to your device.
Enter your 8x8 login and password to activate the app.
Start making calls!
Highlights
Save money—Make calls on your smartphone using your 8x8 calling plan, so you save on long distance and international calls.
Save on minutes—Use 4G, cellular calling plan or Wi-Fi.
Save on international roaming—Avoid data roaming charges when outside the US by turning off data roaming and using Wi-Fi hotspots. Since your calls are charged under your 8x8 calling plan, you won't have international call roaming charges.
Features
Use *88 to switch from desk phone to iPhone or to softphone during a live call. Your callers won't even notice you changed devices!
Make calls from your company directory or personal contact list.
Never miss a call which can simultaneously ring on your mobile phone, PC or Mac and desk phone.
Make 3-way calls.
Put callers on Hold, Park, or Transfer them to other extensions.
One-button access to conference bridge and auto-attendant.
Set up call forwarding rules.
View voicemails in a list, review and delete messages in any order.
Check presence (busy, available, offline) and exchange instant messages with co-workers.
Join and create Virtual Office Meetings.*
View shared content and high definition video.*
Record any call.*
Works over 4G, cellular calling plan or Wi-Fi.
Works with iPhone iOS 11.0 or later.
* Requires a Virtual Office Pro account and/or HD Video .
User Guides
The Virtual Office Mobile app is super simple to use. See how now.
Note: Voice quality is subject to Wi-Fi or 4G signal strength and available bandwidth.